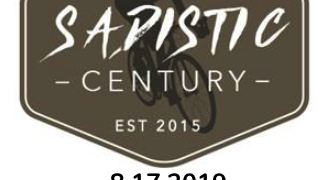 The routes are new this year, similar to the past, but road construction had changed things in the past. Please follow all traffic laws and ride with care, stopping at all stop signs and lights. Use caution on descents, some are very steep and have stop signs at the bottom.
RideWithGPS.com has been used to create the routes for the event. You can use your phone with the free RideWithGPS App on your smartphone and let it provide turn-by-turn navigation from your jersey pocket. Apple Store link and Play Store link for Ride with GPS. Install and create free account.
The Sadistic Century event is published at https://ridewithgps.com/events/189840-2022-sadistic-century-menomonie-wi Use this link to access the routes on Ride with GPS. Print your own queue sheets if you want. No printouts available at registration.
The 60 KM and 100 KM routes have the 8 mile Menomin Meander bike ride around the lake included. This loop is optional and you can just stop at the end or continue around loop.
*Routes verified and updated 8/17/2022
Download all Routes (FIT, GPX, and TPX file formats) from a zip file: https://sadisticcentury.com/wp-content/uploads/2022/08/2022Routes.zip
or individual at a Google Folder at: https://drive.google.com/drive/folders/1TDiQ2-42-WMd1Wf2ASTPK2BKEzvncewl?usp=sharing
Registration opens at 6 AM. Police escorted Rollout planned for 7 AM.